Cakey is a female contestant in Object Invasion Reloaded. And Lamp killed her.
Edit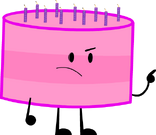 Personality
Edit
Cakey acts like a demonic xenomorph, but is obsessed with her derpy phone. She is usually the rudest, but she is mean to Bread.
Fun Facts
Edit
Cakey is voiced by Thestupid on Memeloord, being the 77th person to type in lines through Skype like the other newbs.
Why is she bossy?
Edit
Because the creator felt like it.